About NSN New Jersey / New York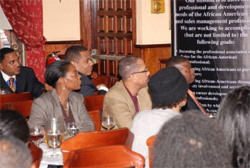 NSN Background:
National Sales Network (NSN) is a 501(c)(3), not-for-profit membership organization whose objective is to meet the professional and developmental needs of sales and sales management professionals and individuals who want to improve their professional sales skills.
Since our inception in 1992, the organization has grown to include 16 chapters nationwide. Our chapters conduct a variety of skill development seminars on topics that include but are not limited to the following.
·Sales Skills
·Career Development
·Leadership Skills
·Personal Development
·Time Management
·Organization Skills
·Business Management
·Communication Skills
NSN conducts an annual conference & career fair. The conference is attended by 1000 + people from over 30 states/international locations. The conference holds the attendance record for the largest concentration of African-American Sales Executives in the world.